Your front door is the first thing that people see when they look at your home. Shouldn't it say something about you? The good news is that with XtremeDoor not only are there sixteen brochure options but as we have our own state of the art spraying facility the choice doesn't stop there.
We have hundreds of RAL codes for you to also select from. The RAL code system was developed to help standardise what colours people were seeing and bring some uniformity to the process. The classic range of RAL Color Chart  colours that we offer all come with a four-digit code such as RAL7016 which is the popular Anthracite Grey hue or you could select RAL7038 the emerging Agate Grey shade.
Grey's are popular but we have also been sent lot's of examples where our customers have fitted some very unique and eye catching doors in a number of RAL codes for Pink, Orange, Yellow and Greens.
We thought we would share some of these with you to help give you some further inspiration!
Yellow composite doors
This bright yellow or RAL1003 Signal Yellow really stands out and makes a statement. Located in the Liverpool suburb of Aigburth in a terrace it replicates the look of a traditional timber door of which there are still many around in the adjacent properties.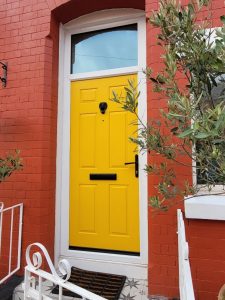 Pink composite doors
There is nothing traditional about our next choice. These clients in Bath have chosen a very modern door, our Verona with long bar handles and are deco Murano glass. The choice of colour though RAL4006 Traffic Purple is a massive bold statement of someone who wants to be noticed!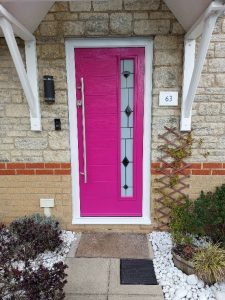 Orange composite doors
Well they say Orange is the new Black so this home owner went for RAL2004 or Pure Orange but hung it in a black outer frame. Again they went for the popular Verona style door which with it's sleek horizontal lines and full length glazing is aesthetically very pleasing.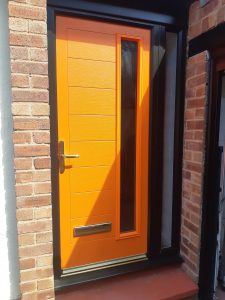 More colours for composite doors
Back to the traditional with a Pink door in RAL3014 which is fittingly also known as Antique Pink. This Andover installation by KJM Group sits very grandly in it's white door surround. With Gold furniture, we feel this household knew exactly how to stand out and get some kerb appeal.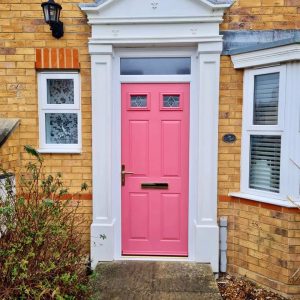 Green composite doors
Taking a break from bright colours this choice of RAL6005 which is Moss Green gives off a 1940's British countryside vibe. The colour itself is very heritage looking but they have opted for the modern Jacobean door style and some how it works.
Blue composite doors
Moving from the countryside to the coast with this Napoli style door in RAL5014 Pigeon Blue. It almost looks like it could be on a beach hut. With the white cladding it looks super clean and almost American as  well. Again a lovely bespoke choice to add some individuality to their home.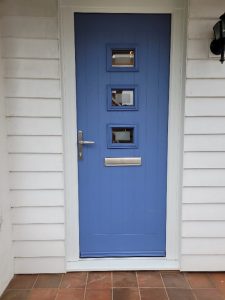 Grey composite doors
Last up is an emerging challenger to Anthracite Grey but quite a few shades lighter.  Agate Grey RAL7038. Is becoming a popular choice for doors and windows but has not yet made it into the catalogue as a 'off the shelf' option. The light tones against the brick though is far less harsh than the darker greys and it works really well to make the house more welcoming.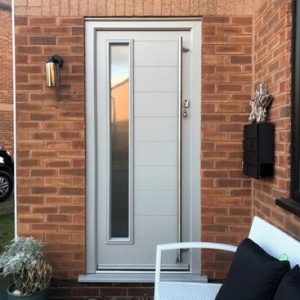 Coloured composite doors across the UK
If you want to keep an eye on our social media posts, follow us on Instagram, Pinterest and Twitter @Xtremedoor1 as we repost our fantastic customers' proud installation pictures.